When it comes to accent ideas and decor for your home exterior, the possibilities are endless. While a well-manicured lawn and some patio furniture add to the curb appeal of your home, don't stop there when it comes to the exterior of your home. Your threshold should be an inviting and wonderful place to entertain guests. Luckily, there are many areas of your home's exterior that can be upgraded, embellished, and beautified.
Selective application of colors and materials can work with your landscaping to create a highly organized aesthetic. You can even take it further and choose colors and textures that match the plants in your yard. Seamless integration of man-made and natural design elements will make your home pop, to the envy of your neighbors.
From lighting to fixtures, furniture, and accent pieces, I've assembled some of my favorite home exterior accent and design ideas.
My standard disclaimer: Please note, some of these items may be offered through affiliate links which means I could get a small commission if you order. That will never influence what I find lovely and want to share with you. I always offer suggestions I would buy for my home or recommend to a client. Also, rest assured it won't affect the price you would otherwise pay.
Exterior Lighting Design
Accenting your landscaping with lights adds both security and draws attention to the beauty of your yard. Floodlights provide a high degree of visibility and protection, but porch lights are a great place to play with design. Matching colors and materials can unify your aesthetic while offering the functional lighting you need.
Spread the lighting out as well to both increase security but also accent each facet of your home's exterior. Your garage is a great place to add motion-sensitive lights, but persistently illuminated fixtures are a nice touch, too. Path lighting looks beautiful and adds subtle illumination to your walkways.
Summerland outdoor round pendant
This lovely pendant light is made of weatherproof resin but it looks like breezy rattan. The soft colors and mesh design add a level of comfort to any outdoor setup, and the length is adjustable, perfect for tall and short porches alike. The overall look of this piece will match well with gorgeous wicker furniture but would be perfect for any relaxed exterior design concept.
Globe String Lights
Nothing says chic garden party like globe string lights. These gorgeous strings from Pottery Barn have a minimalist feel that is anything but; meshing modern design with a timeless, industrial look.
Exterior Rugs
Exterior rugs add hominess and softness to your porch or deck. They're designed to deal with the most unpleasant weather, retaining their beauty no matter what Mother Nature throws at them. Additionally, they're a great point to tie a look together, allowing you to match colors and patterns.
Choosing a rug for your exterior decor also also makes them feel like a more complete addition to your home. Something about these pieces creates a sense of completeness that adds a level of depth to outdoor entertaining. It helps that they're beautiful, too.
Santorini Outdoor Rug Safavieh
Gorgeously colored and patterned, this rug is perfect for a quiet, nature-inspired deck or porch. Made of machine-loomed polypropylene, it can withstand each season beautifully. Though it should be said that all exterior rugs should be tucked away when the weather is bad; this keeps their colors vibrant. It comes in a variety of sizes to fit your needs as well.
Global Strip Outdoor Rug
Black stripes match well with just about any exterior design scheme and this rug shows them off beautifully. Especially well-paired with matte black or brushed metal exterior fixtures, this rug adds a touch of comfort to your porch or garden.
Outdoor Furniture
Nothing makes a beautifully designed home exterior better than being able to bask in it. Outdoor furniture can be tacky or overly utilitarian, but these pieces I've curated are neither. They're comfortable, functional, and add to the aesthetic of your home's exterior.
The seating you choose needs to be comfortable, weather-resistant, and beautiful. While it can be difficult for furniture to pull off all three of these requirements, each of these pieces passes the test. Likewise, you want your other furniture to be sturdy and beautiful, retaining functionality but still providing that eye-catching "wow" factor.
Sundial Outdoor Sofa with Bench Seat
Sinking into a couch is a wonderful feeling when you're ready to relax, and there's no reason you can't do that outside. This sofa combines luscious comfort and weather-resistant materials to create the ultimate outdoor lounging. The gorgeous white exterior pairs well with any color scheme you've decided to go with as well.
Loon Black Outdoor Lounge Chair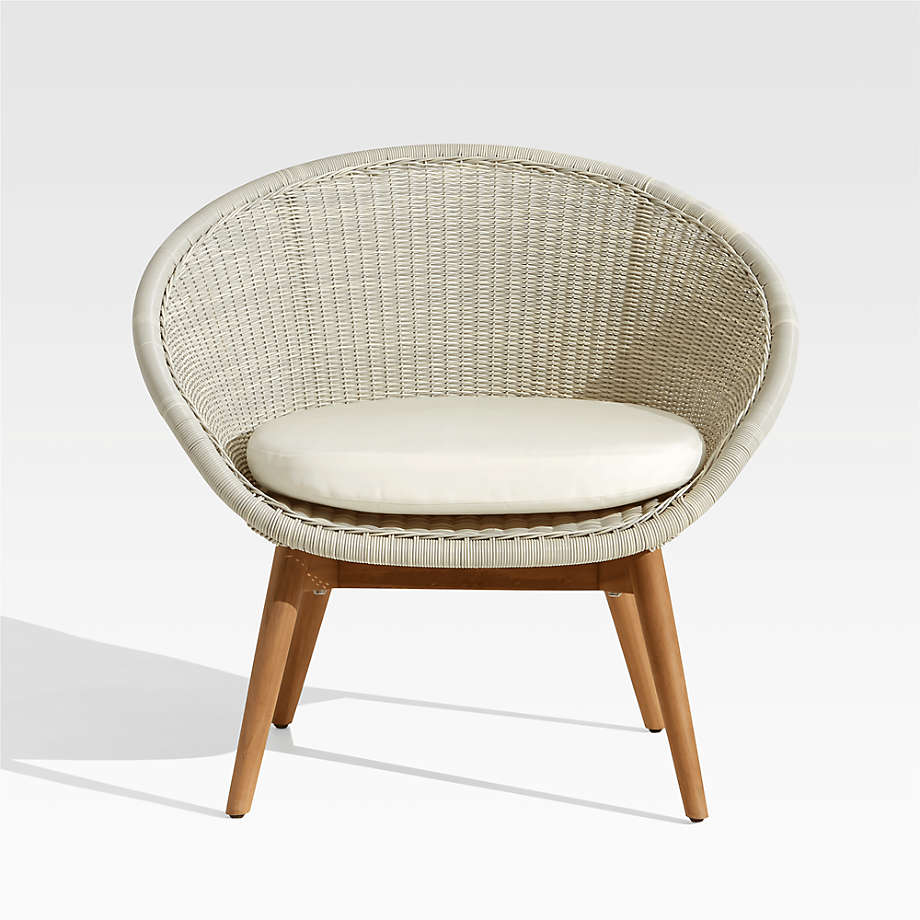 The ultimate in comfort and carefree lounging, this chair adds a breezy sense of style to your porch. Made of hand-woven resin rattan, this piece will stand up to the elements while you lounge in stylish ease in grey or black.
Bamileke Outdoor Coffee Table
Traditional African design meets weather-resistant, highly durable crafting with this coffee table. It would look just as good inside your home, but the relaxed white rattan design speaks to long conversations over coffee on a deck or patio. It comes in 2 colours (see coordinating side table below).
Bamileke Outdoor Side Table
Nothing looks better flanking a beautiful outdoor couch than some finely crafted side tables. The weathered dune color of these Bamileke side tables will look amazing no matter your decor and plays beautifully with the earthy colors of nature.
Exterior Accent Ideas
Your outdoor space should capitalize on the natural beauty of your landscape. Your man-made accents should bring a certain level of sophistication and civilization that is inviting to you and your guests. Comfort and style marry beautifully when you take the time to plan your exterior accent decor.
Woven Stripe Outdoor Lumba Decorate Pillow
Lumbar support is hard to come by with exterior furniture, but these pillows provide it in style. Safe for indoor and outdoor use, you'll find these pillows are comfortable in any setting.
Monogrammed Outdoor Wine Bar Set
What's the point of entertaining if you're not set up to enjoy your favorite beverages? This personalized wine set from Mark and Graham features 4 stemless glasses and an ice bucket, perfect for chilling and serving your favorite wine. Step up the luxury by having them monogrammed for the perfect centerpiece for your next get-together.
Blend nature and design with a gorgeous home exterior
Exterior design should be effortless, combining the beauty of nature with touches of comfort and luxury. Consider coordinated lighting choices to add functionality, security, and beauty. Pendant lights are perfect for your porch, while recessed and motion lighting provide the perfect illumination for your lawn.
Outdoor furniture doesn't have to be hard or unpleasant. Consider luxury seating options that not only feel and look wonderful but also stand up to the elements. Modern designs and materials combine the relaxed look of rattan with the durability of high-quality resin. Effortless to clean and supremely comfortable, consider an outdoor couch to revel in luxury outside.
Rugs are another opportunity to add a splash of interior comfort to your home's exterior. You can use them to tie together other elements of your overall design.
The outside of your home is the perfect place to add color, warmth, and beauty beyond a nice lawn. Don't let this wonderful space go to waste – invest some time into the design of your home with these accent ideas for your home's exterior. You'll find that it can feel like having an additional room, one with the aesthetic beauty of nature itself.