When it comes to basic design tips, there are a few key places to start. I recently wrote about six guidelines to designing a room better but that just scratched the surface. There are so many simple things we do that you can do too to make your result more streamlined and elegant.
Consider these and see if you can't find an idea or two to improve your room.
Sight Lines
Your focal point should be free and clear from one room to the next, so that it feels like you're being drawn between them. That's why the best spot for a focal point is usually directly across from the entrance to the room.
Here a seating arrangement around artwork draws the viewer into the room because the sight line is clear.
Edit your collectibles
Don't hang on to a piece that just doesn't fit. I don't care if your great-aunt Sally gave it to you. If it's not working for you, then find a new home for it (maybe in a different room).
Vary the scale
What looks good in the store may look like an elephant in the room when you bring it home. Or it's too tiny to be of any significance. So it helps to remember to always vary the scale and proportion.
The oversize sunburst mirror frame fills up the wall space nicely here, while the sand dollars make an interesting grouping below. They would be much too insignificant individually. Threes and fives make for more pleasing arrangements than even numbers.
Add layers of lighting
In this kitchen seating area, the backsplash is lit, the artwork is highlighted the cabinet interiors are filled with light, and the tray ceiling is highlighted. One central lighting fixture would not have had nearly the same dramatic result. Professionals build layers of lighting to create interest, intrigue and variety. In a room where everything is lit evenly, nothing stands out. Pick a focal point and perhaps a secondary focal point and highlight those. Add general
ambient lighting
and some lower lighting, like table lamps, for interest.
Be Bold

Personality is what makes a space great. Make your own statement and have fun. The more you try, the more you will begin to see what works and what doesn't.
Incorporate unexpected elements for drama. The unconventional ottoman seats, library-style bookshelves and oversize chandelier here are all unexpected in a conventional living room, but the result has charisma. Eschew expected pieces and interpretations if you want a room that will really wow.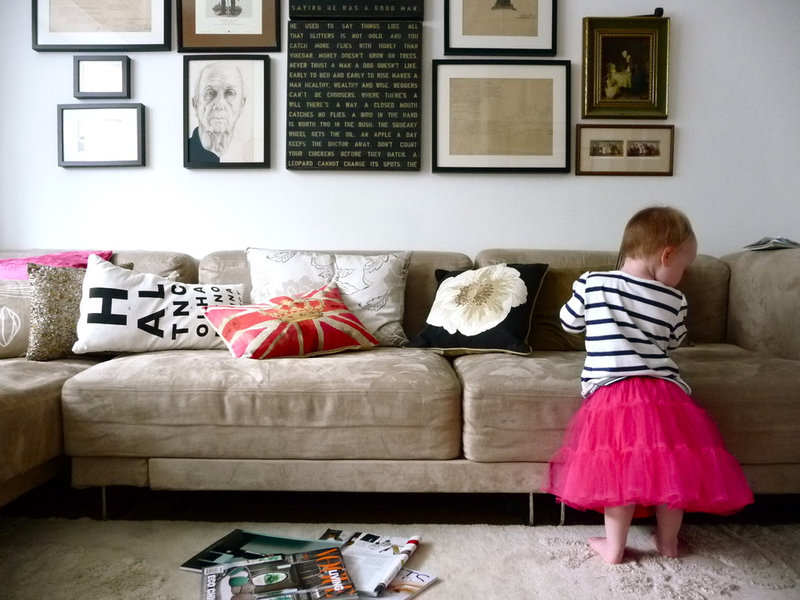 Be Creative

Having some guidelines gives people a good starting point for furnishing and decorating their home, even if some of them aren't practical for a particular space.
Go with something personal that makes you smile and, above all, is comfortable. Overly designed rooms don't really translate in modern life. A pillow collection and an art arrangement that are seemingly haphazard, as shown here, create a dressed-down look with plenty of style.