It may not come as a surprise to you that I am a book addict, but my love of design books in particular knows no bounds. In fact, I am completely out of shelf space and you know I love to leave room for some pretty things when styling a bookshelf. There's just no more room. I don't really mind, however because a stack of books can be a great styling prop for anywhere in the house except probably the bathroom (humidity will ruin them).
Here is a list of some of the favourites I have in my collection. A few are oldies but goodies, and a few are newer acquisitions, and a few on my hint list for Christmas.
Must Read Books for Home Decorating
If you still don't have this first one, what are you waiting for? I like to use post-it note bookmarks and my version has them all throughout the book. This one is jam packed with goodness, just as you would expect from Erin,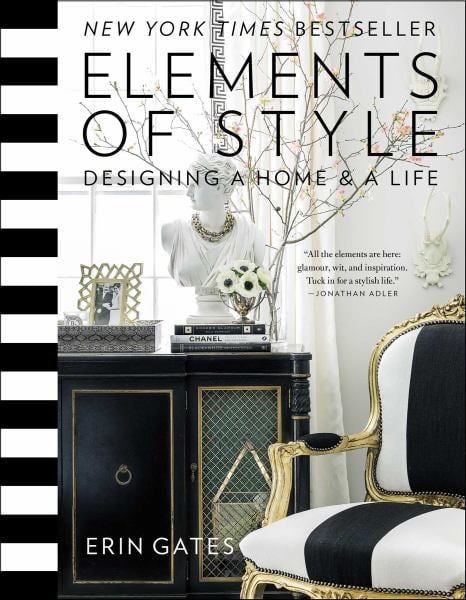 I have yet to pick up a copy of this next book by Emily Henderson's but knowing her, it will be packed with great advice and inspiration.
ps it's on my hint list this year. Let's hope my husband reads my blog this week!
Buy "Styled" By Emily Henderson
Next up is Caitlin Flemming's new book, Travel Home. I had the pleasure of meeting Caitlin and hearing about her origins along with Nate Berkus and how travelling has shaped each of their aesthetics over her lifetime. Together with her mother Julie Goebel, she shares her stories travel and seeing the world and her way of "looking at life and the world with an open heart and an open mind", recalling Caitlin's first experience with travel when her family moved from Washington DC to Mexico City when she was in kindergarten. She vividly recalls their first encounter with" this rhapsody of sounds, smells and movement." that opened her eyes to an entirely new world.
Featured in the book are conversations with many influential designers of today including Vincent Wolfe, Nate Berkus and Jeremiah Brent, John Robshaw, Crystal and Andrew Palacek and many more to explore their design thinking and dig into tips like Collecting textiles, sourcing and displaying art, navigating a flea market and more.
If travel is part of your aesthetic, this is the book for you!
Order your copy of Travel Home here
No surprise, following Caitlin's introduction, I have several books from Nate Berkus I treasure and pull out often. A favourite is his first book. "Whether you are ready to take your first step or add the finishing touch, Nate will hold your hand". This is a great one to start out with.
You can get a copy of "Home Rules" with this link.
Another popular designer I had the pleasure of meeting a while back is Shea McGee. If you've ever searched the tag #HomeInspiration on Instagram, or you have a "Dream Home" Pinterest board filled with interior design aesthetics following the cool modern farmhouse aesthetic, chances are you've pinned a lot of photos of Studio McGee's work without even realizing. The creative duo behind Studio McGee, an interior design firm based in Salt Lake City, is husband and wife Syd and Shea McGee. Now the hosts of a popular Netflix series Dream Home Makeover, these two are busier than ever. Their first book is out and will be in high demand this holiday season.
Order your copy of "Make Life Beautiful" here.
If you are a fan of the trending style – farmhouse chic, you are probably a fan of Joanna and Chip Gaines. Joanna Gaines together with her husband Chip are co-owner of Magnolia, and both co-starred on HGTV's Fixer Upper. Their nearly 350-page book on how to design your dream home is bound to have some inspiration for you if you love her boho flair and farmhouse style.
Joanna Gaine's book can be ordered here.
Here they are together and I've included a kindle version of Emily Henderson's book. I'm a hardcover book kinda girl but in case you are interested…

*** My standard disclaimer: Please note, some of these items may be offered through affiliate links which means I could get a small commission if you order. That will never influence what I find lovely and want to share with you. I always offer suggestions I would buy for my home or recommend to a client. Also, rest assured it won't affect the price you would otherwise pay.